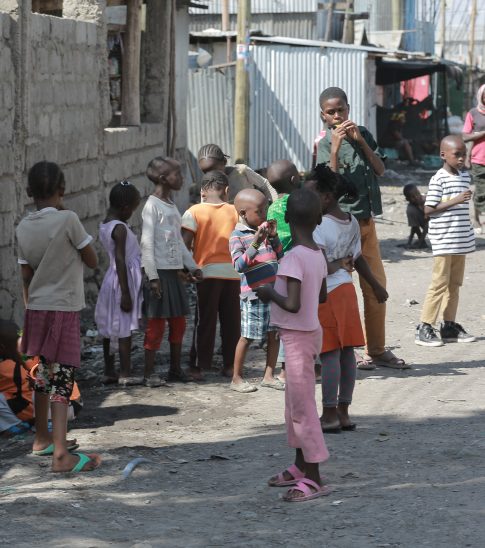 Back to Africa Initiative
The Back to Africa Initiative is an integral part of the C.H.A.N.C.E. Global Initiative. The Carson Academy of Excellence is currently educating over 400 children, grades K-8th. The school will be expanding to include secondary education with plans to begin its first 9th grade class in the fall of 2018 after the complete build out of the high school wing of the school. Each year thereafter, an additional grade will be added until the school is fully equipped to provide primary and secondary education. Education in Kenya is a huge challenge and is terribly expensive. Many children simply cannot afford to attend school and many others may complete elementary school but cannot afford to continue on to high school. Due to this fact, an 8th grade education is the end of the road for many students unless they find someone to sponsor them through high school, which is extremely rare in the slums. The Back to Africa Initiative is coordinated with the C.H.A.N.C.E. Global Initiative and is designed to provide educational, economic, exposure, and entrepreneurial empowerment by providing quality education through the Carson Academy of Excellence to students Pre-K through the 12th grade, then connecting them with Historically Black Colleges and Universities (HBCU's) that are partners of the Back to Africa Initiative to continue their higher education to the Ph.D. level if desired. These students will have an opportunity to study abroad or study online, and earn their college degrees, both undergraduate and graduate.
The C.H.A.N.C.E. Global Initiative profoundly believes that anyone, given proper support and opportunity can become a healthy, productive, law abiding citizen who contributes to the progression and well-being of society.
Thus, The C.H.A.N.C.E. Global Initiative was developed with a four-fold approach that is designed to lift individuals from a lower level of life to maximization of their potential.
Once the students complete their secondary education, they will be connected to the HBCU of their choice based upon qualifications and financial packages. The student will sign an agreement for an educational visa, with the understanding that they will go back and work to build their homeland with the foundation of a quality education and skillsets gained from HBCU's. The Back to Africa Initiative looks to partner with HBCU's that will assist in supporting the primary and secondary education of students in order to assist the efforts of the academy to execute the vision of Children Having Access to Nutrition Care & Education (C.H.A.N.C.E.) By doing this, the HBCU's in turn help to ensure that higher education for the students is possible. The Back to Africa Initiative is designed to also give African children that are not underserved but un-served a chance and hope for a productive and prosperous future that impacts the world.
Upon earning their degrees, the students will be able to go back to their country empowered and equipped to help build and improve their nation. The other unique and powerful aspect of the Back to Africa Initiative is that it provides a microcosm of the Marcus Garvey initiative "Back to Africa". Students will be able to study subject matters that will help to build their economic infrastructure and development with the assistance of Historically Black Colleges and Universities. This is a historical feat. Why? Because African-Americans are the only ethnic group that is not known for helping their indigenous homeland. This initiative allows us to partner with our brothers and sisters and empower them to rebuild the ruins of an underdeveloped Africa with the help of HBCU's.
Contact us for more information about the Back to Africa Initiative.